The Lockheed (General Dynamics) F-16A ADF Block 15 (Air Defense Fighter) is the only interceptor assigned to air defence of the North American continent; with the collapse of the Soviet Union, it almost certainly the last.
The US Air Force decided in October 1986 to convert 270 F-16A/B Block 15 Fighting Falcons to ADF standard. The Cold War drove military plans, which called for 14 ANG (Air National Guard) squadrons to receive the ADF to defend North America from bombers and cruise missiles. This combat role had not been foreseen when the F-16 Fighting Falcon was developed and no American unit had operated the F-16 with a radar-guided missile or on a long-range intercept profile.
The ADF conversion is centered primarily on upgrading the existing AN/APG-66 radar to improve small target detection and provide continuous-wave illumination (this giving the ability to launch AIM-7 Sparrow BVR missiles). Further modifications include a night identification light in the port forward fuselage, advanced IFF, high frequency, single side-band radio, improved ECCM and provision for GPS and AIM-120 AMRAAM missile datalink. The ADF F-16 can carry up to six AIM-7 or AIM-9 Sidewinder missiles and retains the internal 20-mm M61 cannon of the F-16A. The first successful launch of a sparrow took place in February 1989.
Actual conversion of the ADF F-16s (completed in early 1992) was undertaken by USAF's Odgen Air Material Area at Hill AFM, Utah, with General Dynamics-sourced modification kits. Development of the ADF F-16 was conducted at Edwards AFB in 1990 and was followed by operational test and evulation with the 57th Fighter Weapons Wing at Nellis AFB, Nevada. The first service aircraft were assigned to the 114th Fighter Squadron, Oregon ANG, at Kingsley Field in Klamath.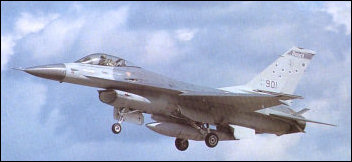 Distinguishing features of the ADF F-16 are the bulge on the fin/fuselage fairing and the searchlight on the port side of the nose. This aircraft is from the 179th Fighter Squadron, Minnesota ANG.
Source: Encyclopedia of World Military Aircraft 1994 © Aerospace