It is believed that no two-seat Su-27s based on the early 'Flanker-A' were produced and that the prototype Su-27UB, designated T-10U-1, was based on the definitive production Su-27 'Flanker-B'. This aircraft reportedly made its maiden flight on 7 March 1985, piloted by Nikolai Sadovnikov. Series production of the Su-27UB began at Irkutsk in 1986, and deliveries began in 1987. Before the type became available in large numbers, Su-27 regiments used MiG-23UB 'Flogger', Su-17UB 'Fitter' and MiG-29UB 'Fulcrum' two-seaters for conversion and continuation training.
The Su-27UB differs from the single-seater in having a lenghtened forward fuselage with stepped tandem cockpits under a single canopy. The tailfins are increased in height and area, as is the airbrake. Due to a 740 kg (1,631 lb) increase in normal take-off weight and the increased drag caused by the new canopy, maximum speed is reduced by about 70 km/h (38 kt) at low level and 160 km/h (86 kt) at height, while low-level range is reduced by 100 km (54 nm) and high-level range by 680 km (367 nm). Turn-radius, rate of climb and take-off/landing distances are less affected.
Su-27UBs have also been used for a number of experimental programmes. Two-seat Su-27s conducted buddy refuelling trials using a centerline UPAZ refuelling pod, and made a number of extremely long distance flights, including a marathon 15 hour 42 minute, 13440 km (7,253 nm) sortie flown by Sadovnikov and I. Votintsev. Other Su-27UBs have been used as airborne laboratories to support the Gulfstream/Sukhoi SSBJ programme, and to test the vectoring nozzles under development for advanced versions of the Su-27.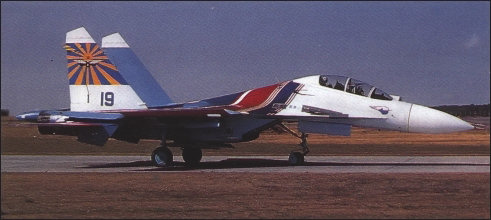 This Su-27UB 'Flanker-C' of the 234th 'Proskurovskii' at Kubinka wears the striking color scheme of the 'Russian Knights' aerobatic demonstration team. The front cockpit has been fitted with rails for an instrument flying training hood
SPECIFICATION
Sukhoi Su-27UB 'Flanker-C'
Generally similar to the Sukhoi Su-27 'Flanker-B' except in the following particulars:
Fuselage and tail: height 6.36 m
Weights: normal take-off 23990 kg (52,888 lb)
Range: range at high altitude 3000 km (1,619 nm); range at low altitude 1270 km (685 nm)
Performance: maximum rate of climb at sea level 16200 m per minute; service ceiling 16700 m; take-off run 580 m at maximum take-off weight; landing run 650 m at normal landing weight
Source: Encyclopedia of World Military Aircraft 1994 © Aerospace