As the most advanced tactical interdictor/strike (IDS) aircraft produced in Europe, the Panavia Tornado obviates NATO's lack of weapons standardization by carrying almost every relevant air- launched armament in the inventory. It achieves this task at high subsonic speeds, masked from detection by automatic, all-weather terrain following, and protected from air and surface threats by a range of active and passive self-defense aids. Meeting a challenging specification issued in the late 1960s, the Tornado's intended roles were interdiction, counter-air operations against airfields, battlefield interdiction, close air support, reconnaissance, maritime attack and point interception. An all-weather air superiority derivative, the Tornado ADV, was developed independently for UK requirements. Specific reconnaissance versions are the Luftwaffe s ECR and RAF's GR1A.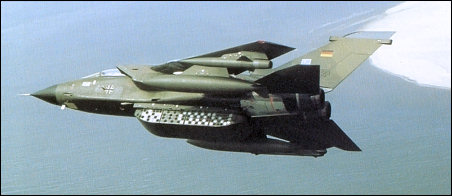 At the peak of its strength, the Luftwaffe had five Tornado strike wings. This JBG 38 aircraft, based at Jever, carries an MW-1 weapons dispenser, the German equivalent to JP 233. Underwing are a BOZ-101 chaff/flare pod (port) and a Cerebrus ECM pod (port). The Tornado wears the lizard scheme adopted from 1983.
The three nations commissioning the Tornado are represented in prime contractor Panavia by their national aircraft industries, currently British Aerospace, DASA (Germany) and Alenia (Italy), which have program shares of 42.5, 42.5 and 15 per cent, respectively. Assembly lines have been established in all three countries, with manufacture for third parties being undertaken by the firm achieving the sale.
The Tornado is of modest overall dimensions and is powered by a pair of Turbo Union RB.199 reheated turbofans which are, like the majority of the avionics, a product of international collaboration. The shoulder-mounted, continuously variable-geometry wing incorporates full-span double -slotted flaperons, full-span leading-edge slats and upper surface spoilers/lift dumpers. A Krueger flap is located forward of each wing glove vane. The wing high-lift devices confer good field performance and coupled with bucket-type thrust-reversers, allow the aircraft to land on unfavorable surfaces; perhaps damaged, lengths of runway and taxiway.
Five Muharraq-based Tornados formate on a No.55 Sqn Victor tanker.
The Tornado's nav/attack system comprises a Texas Instruments multi-mode forward-looking, ground-mapping, terrain-following radar, Ferranti digital INS (DINS) and combined radar/map display, Decca 72 Doppler radar system, GEC Ferranti laser rangefinder and marked target seeker in an undernose fairing (RAF aircraft only) and Alenia radio/radar altimeter. The aircraft's flight control system primarily comprises a triply redundant command stability augmentation system (CSAS)using fly-by-wire and autostabilization, and an autopilot/flight director (APFD). Coupled with the nav/ attack system, these allow the aircraft to fly with high stability and near-sonic speed at 200 ft (61 m) above ground level in all weathers. Over known flat surfaces, such as southern Iraq during the 1991 Gulf War, altitude can be further reduced by reliance on the radar altimeter alone.

Operation Desert Storm marked the combat debut of the TIALD pod. Two prototypes examples were rushed to the Gulf and were shared by at least six Tornados.
With a high wing loading to minimize low-altitude gust response, the aircraft is a stable weapons platform and is both fast and comparatively comfortable for its crew when flying through the dense, low-level air. The reliable DINS, updated by periodic radar fixes, make possible a single- pass attack of pinpoint accuracy in all weathers. The Tornado was also the first combat aircraft designed with a fly-by-wire control system, but was preceded into service by the similarly-con- trolled Lockheed (GD) F-16 Fighting Falcon. Fixed armament comprises two 27-mm IWKA-Mauser cannon on each side of the lower fuselage with 180 rounds per gun. Weapons and other stores are carried on a total of seven hardpoints: one centerline pylon, two fuselage shoulder pylons and two swiveling pylons under each wing. The inboard wing pylons are fitted with mountings for self-defense missiles.
TORNADO DEVELOPMENT
Design of the Tornado, initially known as the Multi-Role Combat Aircraft (MRCA), was initiated in 1968. The first of nine prototype and six pre- series Tornados flew on l4 August 1974, followed by the initial production aircraft on 10 July 1979. Six procurement batches covered by the original tri-national agreement included 640 IDS aircraft, while a further 57 were added in Batch 7, as were four pre-series examples notionally refurbished to production standard. Aircraft of Batches 1-3 have 14,840-lb st (66.0-kN) RB.199 Mk 101 powerplants; the remainder have 16,075-lb st (71.5-kN) Mk 103s, although 100 RAF Mk 101 engines have been upgraded in service. RAF Tornados also have fin fuel tanks of 121-Imp gal (551-liter) capacity, augmenting a standard capacity of 1,285 Imp gal (5842 liters), and are cleared with the F.Mk 3's 495-Imp gal (2250-liter) underwing drop tanks. Italy and Germany use only 220- or 330-Imp gal (1000- or 1500-liter) tanks, two of which can also be installed beneath the fuselage of all variants. All IDS operators have some fully combat-capable dual-control Tornados for conversion and continuation training. In RAF service these "twin-stickers" are given the (little-used) designation GR.Mk 1(T). Production batches 6 and 7 incorporate MIL- STD 1553B digital databus, upgraded radar warning equipment and active ECM, an improved missile control unit and integration of AGM-88 HARM missile.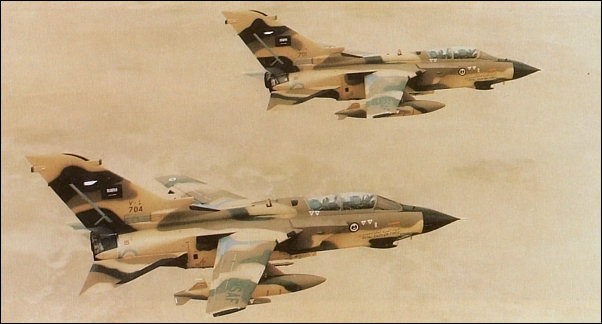 Initial Royal Saudi air force Tornado deliveries went to No. 7 Sqn, at Dhahran. The first four aircraft departed Warton on 26/27 March 1986. The aircraft seen here - 701 and 704 (a dual control version) - were among a batch of 18 originally laid down for the RAF.
RAF Tornado GR.Mk 1s include those based at Cottesmore, where the Trinational Tornado Training Establishment uses aircraft from all three European nations for type conversion, weapons instruction being at individual units in each country. Deliveries to TTTE began in July 1980, followed by formation of the first operational squadron (No. IX) in June 1982. Orders have totaled 164 standard GR.Mk 1s, 50 (plus one refurbished pre-series) dual-control air- craft, and 14 new-build GR.Mk lA reconnaissance aircraft although 16 Batch 3/5 machines were retrofitted with Mk 103 engines and recce equipment under the same designation.
In 1993-94, two squadrons (Nos 12 and 617, at RAF Lossiemouth) began to receive a maritime attack tasking with BAe Sea Eagle anti-ship missiles and "buddy" refueling pods under the designation Tornado GR.Mk 1B, to replace the RAF's ageing Buccaneers. Ten aircraft (including seven twin-stickers) were modified to accept 15 Sargent- Fletcher 28-300 pods (purchased from the Marineflieger) during the Gulf War.
A mid-life update later in the 1990s will raise air- craft to Tornado GR.Mk 4 standard. This was to have provided the Tornado with a GEC Spartan terrain-referenced navigation suite (cancelled in early 1993), new Ferranti HUD, updated weapon control system, colour head-down display, improved electronic warfare suite and a FLIR (cancelled in 1993). P15 served as a GR.Mk 4 development aircraft, flying for the first time in its new configuration in late 1993. The resulting update will provide for a digital map display, GPS navigation, pilot's MFD, improved weapons systems, new HUD, video recorder and undernose FLIR. The GR.Mk 4 will be TIALD-capable. BAe will undertake the work on 80 aircraft between l996 and 2000, with an option on a further 62 upgrades between 2000 and 2002. Service entry is slated for February 1998.

The Lynx badge of 156° Gruppo, Italy's second Tornado unit, carried on the intakes as a safety warning. 156° Gruppo is the AMI's anti-shipping squadron.
A peak of 11 squadrons was achieved in 1990 eight in RAF Germany (II, IX, 14, XV, 16, 17, 20 and 31) and three in the UK (13, 27 and 617) of which two were assigned to reconnaissance, but the 1994 position was to be eight; four in Germany (IX, 14, 17 and 31) and four in the UK, the latter com pricing two recce (II and 13) and two maritime (12 and 617) squadrons.
In Germany, the Luftwaffe acquired 212 Tornado IDS, including two refurbished and 55 dual-control; the navy acquired 112, of which 12 are "two- stick". Luftwaffe aircraft were assigned to four fighter-bomber wings and one training wing, while the Marineflieger fielded two maritime attack units. One of these naval squadrons (MFG 1) has been disbanded and its aircraft transferred to the Luftwaffe to re-equip reconnaissance units AkG 51 and 52, which were former RF-4E operators. Over the course of a year 40 aircraft were transferred to a new unit, AG 51, which has adopted the badge and traditions of AkG 52. Established in January 1994, AG 51 undertakes a Baltic reconnaissance role identical to that of MFG 1. These aircraft will be initially equipped with (only nine) DB/Aeritalia pods housing two Zeiss cameras and a Texas Instruments RS-710 IRLS, inherited from the Marineflieger. This makes them less capable than the Phantoms which they replaced, but development of a new DASA system, to enter service in 1998, is underway. Nine remaining HARM-capable Marineflieger Tornados have joined MFG 2.

Still bearing traces of its Marineflieger past, this Tornado wears the panther badge of Luftwaffe reconnaissance unit AG 51 (formerly the badge of AkG 52).
In association with Italy, Germany is pursuing a Mid-Life Improvement plan. A step-by-step pro- gram, it will involve integrating a new main computer with software and weapons systems, with a view to adding a FLIR, GPS navigation and improved ECM capabilities in the future.
Italy received 100 Tornado IDS, including one refurbished and 12 dual-control. Three squadrons formed in 1983-84 and a fourth converted in 1993. This latter unit (102o Gruppo) will have a dual reconnaissance/attack role using podded Martin- Marietta ATARS (Advanced Tactical Air Reconnaissance System), and 155o Gruppo is already equipped with a MBB/Aeritalia podded recce system. Maritime attack is the responsibility of the Kormoran-equipped 156o Grupo. Italian plans for an update program are comparable to those of Germany.
The sole IDS export contract covers 48 (including 14 dual-control and six reconnaissance) delivered to Nos 7 (replacing F-5Es) and 66 Sqns of the Royal Saudi air force from 1986. The follow-on 1993 Al- Yamamah II contract covered an additional purchase of 48 IDS-configured aircraft. Originally to be split between IDS and ADV variants, this order, confirmed in June 1993, will comprise virtually all IDS Tornados, with a small number of reconnaissance-capable examples. The final six aircraft of the initial batch were already completed to GR.Mk 1A standard.

British Aerospace first flew their Tornado GR.Mk 4 demonstrator in May 1993, from the Warton factory. Note the new undernose sensor housings.
RAF, Italian and Saudi Tornados received their combat debut in the 1991 Gulf War. One AMI and six RAF Tornados were lost in combat, the latter primarily due to AAA when employed on anti-airfield missions. The war also marked the operational debut of TIALD and ALARM. After closure of OEW the German assembly line in January 1992, the UK remained the sole manufacturing source, delivering its last aircraft (a F.Mk 3) in 1993. Orders totaled 697 IDS, 35 ECR and 197 ADV interceptors. In mid-1994 the UK government was considering leasing GR.Mk 1s to the United Arab Emirates.
WEAPON OPTIONS
The Tornado's fixed armament comprisesa pair of 27-mm IWKA-Mauser cannon, with 180 rounds per gun. Most NATO standard weapons can be carried, on Sandall Mace ejector rails in the case of RAF aircraft and MWCS racks on German and Italian examples.
Weapons specific to RAF Tornados include the 950-lb (431-kg) WE177B nuclear bomb (remaining in the inventory until 2007), JP233 airfield-denial weapon, 1,000-lb (454-kg) freefall, retarded and Paveway II LGBs and (from 1991) BAe ALARM anti-radar missile and Marconi TIALD IR/laser designator pod. Defensive aids for the RAF include Bofors BOZ-107 chaff/flare dispenser pod, Marconi Sky Shadow jamming pod, two AIM-9L AAMs and internal Marconi RHWR radar warning receiver (replacing original Elettronica unit, which remains in Italian and German service). Aircraft tasked with replacing the Buccaneer in the maritime role will be equipped with the BAe Sea Eagle anti-shipping missile. Sea Eagle integration will be a two-stage process, with an interim fit providing for the carriage of two missiles and two underwing fuel tanks, or four underwing missiles. The full standard will provide for a further Sea Eagle compatible station on the centreline, allowing five to be carried, or three missiles and two underwing tanks, or four missiles and a centreline fuel tank.
The GEC-Marconi Dynamics Lancelot PGM was offered in competition with the Paveway III in response to the Staff Requirement (Air) 1242 for a low-level stand-off bomb for the GR.Mks 1 and 4. Go-ahead for the purchase of Paveway III LGBs was approved in July 1994. Derived from the Al Hakim family of PGMs developed for the United Arab Emirates, the rocket-boosted 900-lb (408-kg) Lancelot can be fitted with mid-course guidance to provide a stand-off range of up to 10 miles (20 km) and carry a penetration or blast warhead. The first sightings of this class of weapon have been under an SAOEU Tornado GR.Mk 1. A variant known as Centaur is being offered for SR(A) 1236 for a conventional stand-off missile for the RAF.
Luftwaffe aircraft are armed with US-supplied B61 nuclear bombs, plus the MW-1 bomblet-dispensing system, AGM-65 Maverick and AGM-88 HARM. Self-defence is provided by Bofors BOZ-101 ECM pods, AIM-9Ls and Telefunken Systemtechnik Cerebrus II, III or IV jamming pods. Under development is the Franco-German APACHE stand-off missile, intented for Eurofighter and the Tornado. Flight tests commenced in April 1994. APACHE could be offered to the RAF for SR(A) 1236. The Luftwaffe is also seeking to add further PGM capability to the Tornado.
Naval weapons are the MBB Kormoran anti-ship missile, backed by AGM-88 and the BL755 cluster-bomb, plus SFC 28-300 'buddy' pods. While all German aircraft are AGM-88 capable, only the Luftwaffe's ECR version would use it on an 'offensive' role. Marineflieger aircraft, in contrast, train with HARM as one of their main anti-shipping weapons.
Italian Tornado weapons and equipment are largely the same as for German aircraft: B61, MW-1, AGM-65, AGM-88, Kormoran, Bofors BOZ-102, AIM-9L and Cerberus. AMI Tornados can also carry JP233, 1,000-lb bombs, ALARM, and Sea Eagle, plus RAF-defensive pods. The AMI also purchased 1,700 IAI Griffin LGB systems in November 1993.
SPECIFICATION
Panavia Tornado GR.Mk1
Wing: span 45 ft 7.5 in (13.91 m) minimum sweep (25°) and 28 ft 2.5 in (8.60 m) maximum sweep (67°); aspect ratio 7.73 spread and 2.96 swept; area 286.33 sq ft (26.60m2)
Fuselage and tail: length 54 ft 10.25 in (16.72 m); height 19 ft 6.25 in (5.95 m); tailplane span 22 ft 3.5 in (6.80 m); wheel track 10 ft 2 in (3.10 m); wheel base 20 ft 4 in (6.20 m)
Powerplant: two Turbo-Union RB.199-34R Mk 101 turbofans each rated at 8,475 lb st (37.70 kN) dry and 14,840 lb st (66.01 kN) with afterburning or, in later aircraft, Turbo-Union RB.199-34R Mk 103 turbofans each rated at 8,650 lb st (38.48 kN) dry and 16,075 lb st (71.50 kN) with afterburning
Weights: basic empty about 30,620 lb (13890 kg); operating empty 31,065 lb (14091 kg); normal take-off 45,000 lb (20411 kg); maximum take-off about 61,620 lb (27951 kg)
Fuel and load: internal fuel 11,211 lb (5090 kg); external fuel up to 13,200 lb (5988 kg) in two 2250-litre (594-US gal) and two 1500-litre (396-US gal) or four 1500-litre drop tanks; nominal maximum ordnance more than 9000 kg (19,841 lb)
Speed: limiting Mach No. Mach 1.4 with LRMTS, Mach 1.3 with intakes deactivated (all RAF aircraft); limiting IAS 1482 km/h (800 kt; 921 mph); maximum level speed 'clean' at 36,000 ft (10975 m) 1,262 kt (1,453 mph; 2338 km/h)
Range: ferry range about 2,100 nm (2,420 miles; 3890 km) with four drop tanks; combat radius 750 nm (863 miles; 1390 km) on a typical hi-lo-hi attack mission with a heavy warload
Performance: climb to 30,000 ft (9145 m) in less than 2 minutes 0 secs from brakes-off; service ceiling more than 50,000 ft (15240 m); take-off run less than 900 m (2,963 ft) at maximum take-off weight; landing run 370 m (1,214 ft) at maximum landing weight
g limits: +7.5

Panavia Tornado IDS
generally similar to the Panavia Tornado GR.Mk 1 except in the following particulars
Powerplant: two Turbo-Union RB.199-34R Mk 101 turbofans each rated at 8,700 lb st (38.70 kN) dry and 14,840 lb st (66.01 kN) with afterburning or, in later aircraft, Turbo-Union RB.199-34R Mk 103 each rated at 9,100 lb st (40.48 kN) dry and 16,075 lb st (71.50 kN) with afterburning
Fuel and load: internal fuel 10,251 lb (4650 kg)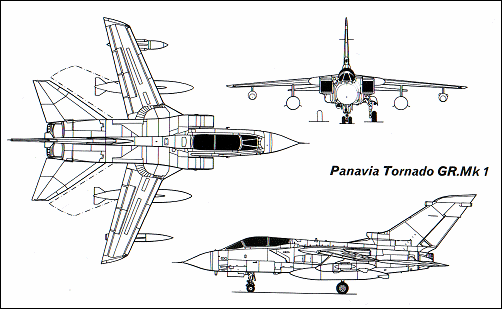 Source: Encyclopedia of World Military Aircraft 1994 © Aerospace