Military aviation news - August 2006
Dutch F-16 crashed in Afghanistan - Pilot killed
A Dutch pilot died today when his F-16 fighter jet crashed in southern Afghanistan. The plane went down around 7 a.m. after making a distress call, but did not report "enemy action," a NATO statement said.
"The plane was flying at a great height when the accident occurred, which means it can be ruled out that the craft was shot down. We therefore assume it was an accident," the ministry said in a statement.
The F-16 (J-364) was early thursday morning returning from a planned mission to Helmand, a province south of Uruzgan where the Dutch are active.

The aircraft crashed in the province of Ghazni, north of where the Dutch are active.
More on this story at f-16.net
Posted: Thu, Aug 31, 2006 22:03 (CET)
Turkey to buy 30 F-16s by 2011
Turkey will purchase 30 F-16 fighter jets as part of its modernization plans, Turkish Air Force Chief General Faruk Cömert stated on Wednesday in Ankara.
Gen. Comert made his remarks to reporters during a special reception in the Turkish capital held on Wednesday evening for Victory Day, celebrated every year on Aug. 30.

"We will have purchased 30 F-16s by 2011. We are still trying to find the money but I don't think that will be a problem," Gen. Comert told journalists.
Source: f-16.net
Posted: Thu, Aug 31, 2006 22:02 (CET)
Raytheon Successfully Flight Tests New Missile Variant
Aug. 21, 2006 -- Raytheon Company has successfully demonstrated the improved navigation accuracy capability of a new variant of HARM (High-speed Anti-Radiation Missile). Called "HDAM" for HARM destruction of enemy air defense attack module, the new variant adds INS/GPS (inertial navigation system/global positioning system) capability to the battle-proven HARM, greatly improving its effectiveness while significantly reducing collateral damage and the threat to friendly troops.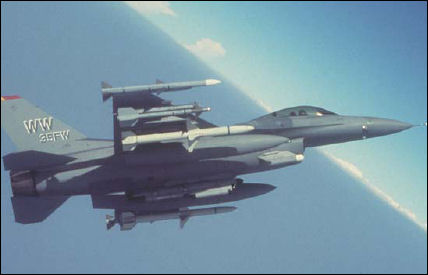 An F-16 carrying two HDAMs (The HARM Destruction of Enemy Air Defenses Attack Module © Raytheon
The test flight took place at the China Lake Test Range, Calif. The missile, launched from an F-16, faced two radar sources and had to select the correct one. The test demonstrated that the added INS/GPS capability ensures that the intended target is attacked instead of other radar sources. After launch, the first target radar, located outside the HDAM's programmed missile impact zone (MIZ), was turned on first, and the missile rejected this target as being outside the area where attacks were allowed. The HDAM continued searching and locked onto the second radar located in the MIZ as soon as it was turned on. After determining the new source was within the MIZ, the HDAM engaged the correct target.
"This shot shows how the HDAM system will bring warfighters a new level of multi-mission effectiveness to HARM-equipped aircraft," said Jeff Wadsworth, the HARM program director at Raytheon Missile Systems in Tucson, Ariz. Raytheon Missile Systems has produced more than 22,500 HARMs since 1985. Customers include the U.S. Air Force, Navy, Marines and seven international allies.
Posted: Wed, Aug 23 2006 20:36 (CET)
Saudi Arabia buys 72 Eurofighters
Saudi Arabia has confirmed it is to buy 72 Eurofighter Typhoon aircraft from the UK, in a deal that could be worth more than £6bn.
The contract, brokered between the Saudi government and the Ministry of Defence, will safeguard thousands of jobs at UK defence firm BAE Systems.
Saudi Arabia is buying the Eurofighters to replace its range of Tornado jets which were also made by BAE.
The Eurofighter was developed by BAE with European firms EADS and Alenia.
Source: BBC News
Posted: Sat, Aug 19, 2006 05:11 (CET)
ST. LOUIS, Aug. 16, 2006 -- The Boeing Company flew the EA-18G Growler airborne electronic attack (AEA) aircraft for the first time, approximately one month ahead of schedule.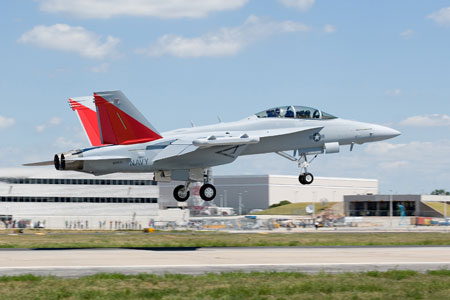 Photo Credit: Boeing Photo - Peter George
Posted: Thu, Aug 17, 2006 16:17 (CET)
Defence contracts round-up: 15 August 2006
The Australian Department of Defence has announced a A$30.5 million ($23.4 million) contract, awarded on 27 July, for the supply of missiles for the Australian Army via the US Foreign Military Sales (FMS) programme. The missiles, while not named, are believed to be Lockheed Martin Hellfire Mk II weapons, with deliveries to be completed by February 2009. Australia also signed a A$24.1 million FMS contract on 19 July for an unspecified number of air-launched bombs - believed to be Boeing JDAM series weapons.
Qinetiq has won a contract from the UK Defence Procurement Agency worth up to £52.5 million ($100 million) over the next three years to continue support for the UK's Eurofighter Typhoon programme. The package includes £50 million for defined technical support, advice and safety clearance activity, together with £2.5 million for subcontracts and future work.
Harris has been awarded a nine-month, $12.5 million contract by Boeing Integrated Defense Systems to provide the distributed targeting processor (DTP) and the companion mass storage unit (MSU) for the US Navy's F/A-18E/F Super Hornets. The DTP and MSU are to improve the network-centric capabilities of the Super Hornet.
Source: flightglobal.com
Posted: Wed, Aug 16, 2006 15:34 (CET)
Boeing rolls out EA-18G Growler F/A-18 electronic attack variant
St. Louis, Mo. (Aug. 3, 2006) - The US Navy today rolled-out the first of two Boeing F/A-18E/F Super Hornet test aircraft converted into EA-18G Growler airborne electronic-attack (AEA) variants (pictured below).
The EA-18 Growler is being developed to replace the fleet's current carrier-based EA-6B Prowler. The next-generation electronic attack aircraft, for the U.S. Navy, combines the combat-proven F/A-18 Super Hornet with a state-of-the-art electronic warfare avionics suite. The EA-18G will feature an airborne electronic attack suite based on Northrop Grumman's Improved Capability III system, a radically new jamming and information warfare system. The EA-18G is expected to enter initial operational capability in 2009. U.S. Air Force photo by Mr. Marv Lynchard
Posted: Sat, Aug 05, 2006 14:38 (CET)
Greece adds electronic warfare system to 33 F-16s
Raytheon has begun work on an upgrade of the Advanced Self-Protection Integrated Suite (ASPIS) electronic warfare systems in the F-16 fighters recently acquired by the Hellenic Air Force (HAF).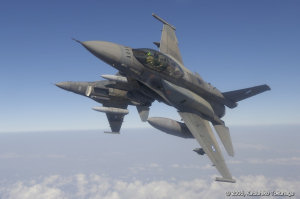 Two Greek F-16 Block 52+ © Katsuhiko Tokunaga (click to enlarge)
Raytheon has been awarded a $96 million contract which represents phase 1 of a two-phase contract that calls for 33 systems as well as support equipment and services. Work on the phase 1 program began in July 2006 with final deliveries due by April 2009.
The ASPIS suite consists of the ALR-93(V) threat warning system, ALQ-187 jammer, and ALE-47 chaff/flare dispenser.
More details at f-16.net
Posted: Tue, Aug 01, 2006 21:40 (CET)
Turkey close to buying 30 new block 52+ F-16s
US defense magazine, "Defense News," has published an article asserting that Turkey is planning on buying 30 new advanced block 52+ F-16s for its air force.
A Turkish authority interviewed for the article said that talks are continuing between Turkey and the Lockheed Martin on the subject of the potential purchase, and that an agreement might be reached in the next few months.
Turkey is close to a decision to acquire an additional 30 F-16 fighter jets on top of its current inventory of around 215 F-16s.
More details at f-16.net
Posted: Tue, Aug 01, 2006 21:39 (CET)