Boeing Flies EA-18G Growler for First Time
ST. LOUIS, Aug. 16, 2006 -- The Boeing Company flew the EA-18G Growler airborne electronic attack (AEA) aircraft for the first time, approximately one month ahead of schedule.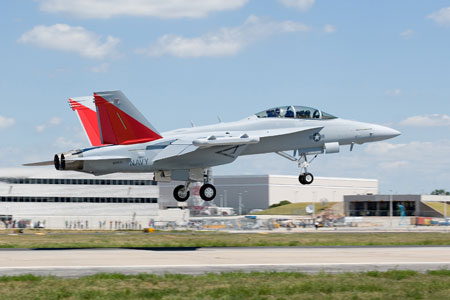 Photo Credit: Boeing Photo - Peter George
The first EA-18G, known as aircraft EA-1, successfully completed its maiden flight from Lambert International Airport in St. Louis. Boeing F/A-18 chief test pilot Ricardo Traven and chief weapons system operator Rick Junkin conducted the first flight of the U.S. Navy's newest AEA aircraft. EA-1 is the first of two test aircraft built under a System Development and Demonstration (SDD) contract Boeing signed with the Navy on Dec. 29, 2003.
The aircraft will fly to Naval Air Station Patuxent River, Md., later this year. In addition to flight testing, it will undergo extensive ground testing in the Patuxent River anechoic chamber to assess on-board radar, receiver and jammer compatibility and performance.
"This is a day we've been working toward since 2003," said Bob Feldmann, vice president, Boeing F/A-18 programs. "To see this aircraft flying is a once-in-a-lifetime experience, but knowing the effort that so many people put into bringing the EA-18G to this milestone makes it even sweeter."
A derivative of the two-seat F/A-18F Super Hornet, the EA-18G's highly flexible design enables warfighters to perform an array of AEA missions, operating from either the deck of an aircraft carrier or land-based airfields. The EA-18G will replace the Navy's current aircraft carrier based AEA platform, the EA-6B Prowler, that has been in service since 1971. The first production Growler will join the Navy's aircraft fleet in 2008.
"In 2003, the Navy made a very bold but necessary investment in a brand-new electronic attack airplane," said Capt. Donald "BD" Gaddis, F/A-18 program manager for the U.S. Navy. "Today, we're seeing the very first return on that investment. The thing that I like about it, the thing my resource sponsors should like about it, is that the cost, schedule and performance parameters we set for ourselves in 2003, we've met every single one of those metrics."
Boeing, acting as the weapon system integrator and prime contractor, leads the EA-18G Growler industry team. Northrop Grumman is the principal subcontractor and airborne electronic attack subsystem integrator. The Hornet Industry Team will divide EA-18G production across Boeing, Northrop Grumman, General Electric and Raytheon manufacturing facilities. The SDD program concludes with an Initial Operational Capability in 2009. Naval Air Systems Command PMA-265 is the U.S. Navy acquisition office for the EA-18G.
Source: Boeing.com