Military aviation news - September 2006
Boeing Completes Block E Avionics Upgrade of B-1 Bomber Fleet
The Boeing Company this week installed the final Block E avionics modification kit on the U.S. Air Force's active fleet of 67 B-1B Lancer long-range heavy bombers, completing a five-year, $680 million contract for enhanced computer hardware, software and weapons delivery capability.
The installation concluded the third phase of the Conventional Mission Upgrade Program (CMUP) undertaken in 1993 to convert the B-1 from a nuclear to a conventional role. A small number of CMUP-equipped Lancers delivered more tonnage of ordnance while flying fewer sorties than any other aircraft during Operation Iraqi Freedom.
"With at least 40 more years of airframe life, the CMUP-equipped B-1 forms a solid foundation for the network-centric upgrades currently being developed for it," said Greg Burton, Boeing director for B-1 and B-2 programs. "Connecting the airplane into the Global Information Grid will provide combat commanders with a potent long-range strike capability for decades to come."
The Block E modification replaces six computers with four, providing a 25-fold increase in throughput, memory and input/output margins required for conventional weapons capability, defensive systems upgrades and future growth. The package also integrates the Wind-Corrected Munitions Dispenser, the Joint Standoff Weapon and the Joint Air-to-Surface Standoff Missile, substantially augmenting the bomber's standoff capability.
Carrying the largest payload in the Air Force inventory, the multi-mission B-1B forms the backbone of America's long-range bomber force. Its low radar cross-section, variable-geometry wings, turbofan afterburning engines and advanced electronic countermeasures combine to provide long range, maneuverability and high speed while enhancing survivability.
Source: Boeing
Posted: Wed, Sep 27, 2006 21:16 (CET)
ST. LOUIS, Sept. 22, 2006 -- The first EA-18G flight test aircraft takes off from Lambert-St. Louis International Airport on Sept. 22, heading to its new home at Naval Air Station Patuxent River, Md. The aircraft is the first of two jets Boeing will deliver under a system development and demonstration contract. The second aircraft will be delivered by the end of the year.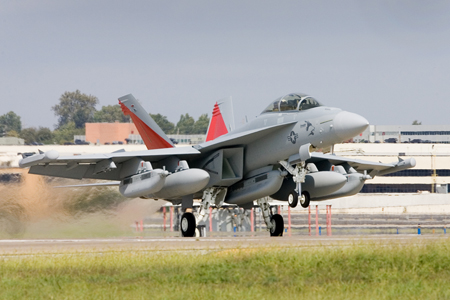 Photo Credit: Boeing Photo
Posted: Sat, Sep 23, 2006 16:45 (CET)
Army General Vladimir Mikhailov, commander of the Russian Air Force, recently said that the latter would receive the first batch of Sukhoi Su-34 Fullback fighter-bombers by late 2006.
Officials at the Novosibirsk-based Chkalov Aircraft Production Association, which builds these warplanes, and the Sukhoi Design Bureau, which developed them, confirmed Mikhailov's statement.
The Russian Air Force has been waiting for the Su-34 for a long time.
Posted: Sat, Sep 23, 2006 16:32 (CET)
Iran bolsters Su-25 fleet
Iran's original seven Su-25K/UBKs were flown to Iran from Iraq in 1991 as the multinational Operation 'Desert Storm' force gathered on Iraq's southern border in response to Iraq's invasion of Kuwait.

The Islamic Revolutionary Guard Corps Air Force (IRGCAF) then purchased three Su-25UBK two-seat combat trainers and three Su-25T anti-tank aircraft from Russia and deliveries of these have been completed. With its maximum combat load of 4,340 kg, the type now plays an important role in supporting the IRGC's rapid-reaction doctrine. It is foremost intended to provide direct air support to ground troops.

The IRGCAF is considering the purchase of more advanced variants, including the Su-25TM (Su-39), optimised for attacks on ground and naval targets in daylight, but also at night, using precision-guided munitions. However, current political circumstances may make this procurement difficult.
Source: Jane's Defence Weekly
Posted: Wed, Sep 13, 2006 15:11 (CET)
Meteor blazes path but challenges remain
The Meteor Beyond-Visual-Range Air-to-Air Missile (BVRAAM) remains an air-launched weapon without peer in terms of range (more than 100 km) and speed (M4.0+). While similar designs have been drawn up in the US, Russia and elsewhere, no other unclassified missile has been developed to the stage that Meteor is at today.

The 2006 air-launched demonstrator firings from Saab JAS 39A flight test team aircraft cleared the way for the next phase - the seeker data gathering trials - and these began on 30 June.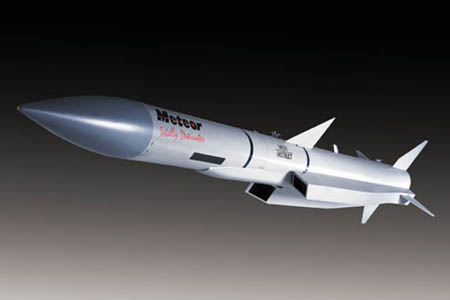 In 2007 the test programme splits into two lines as missile development continues alongside the first control and dispersion firings of guided missiles. MBDA says it is hoping for four launches in 2007, with one test potentially slipping into 2008. JAS 39C Gripens will carry out the first two control and dispersion firings but after that all testing is planned to be handled on a Eurofighter Typhoon aircraft.

The Typhoon is not yet ready to take on this task, however, as the necessary missile integration work has still not been funded, after years of delay.

Eurofighter's difficulties are not linked to any problems with the aircraft or its systems, merely a lack of cash to support the Meteor as required. Eurofighter GmbH is equally displeased with the situation. It submitted its first Meteor integration bid in 2002 and has been waiting since then for the NATO Eurofighter and Tornado Management Agency to sign off on it.

This four-year hiatus is now causing real problems.

In July, Brian Phillipson, Eurofighter's programme management director, told Jane's that the limited Meteor work undertaken by the company so far had all be carried out with interim funding, which has now run out. "Our suppliers have stopped work," he said.
Source: Jane's Defence Weekly
Posted: Sat, Sep 2, 2006 11:40 (CET)
Aircraft makers compete for Bulgarian fighter contract
Bulgaria is looking to replace its current fleet of 16 MiG-29 fighter aircraft with up to 18 new platforms.
Four defence companies have responded to requests for information regarding the potential supply of multirole fighter aircraft to the Bulgarian Ministry of Defence (MoD) and a fifth is to do so imminently.

A series of presentations took place on 22-24 August following a request by the Bulgarian MoD for detailed proposals on aircraft capability, prices and timeframes for delivery.

Gripen International presented a case for its JAS 39 Gripen C/D, Dassault Aviation is offering the Rafale C and BAE Systems is lead consortium partner for a Eurofighter Typhoon bid.

Boeing made its presentation on the F/A-18 in June and Lockheed Martin is due to make its presentation for the F-16 in September.
Source: Jane's Defence Weekly
Posted: Sat, Sep 2, 2006 11:36 (CET)