The Lockheed F-16 Fighting Falcon is the most numerous fighter in the West. Many F-16A/Bs have seen over a decade of service, being modernised in operational upgrade programs.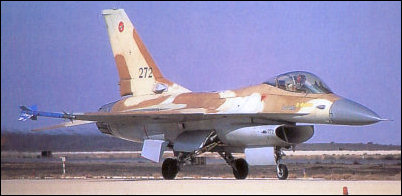 Israel still uses the F-16A in numbers, most aircraft have been fitted with extra local equipment, such as the large chaff/flare dispensers carried here.
The Fighting Falcon was conceived as lightweight 'no frills' fighter for air-to-air combat but despite this, and despite its small dimensions and light weight, has envolved into a versatile and effective multi-role workhorse. First flown on 20 January 1974, the service-test YF-16 defeated Northtrop's YF-17 in a fly-off competition. The first of eight FSD F-16A airframes flew in 1975, the first FSD F-16B in 1977. The two-seat version retains wing and fuselage dimensions of the single seater while sacrificing 1,500 lb 680 kg) of fuel.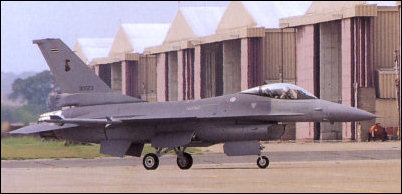 Thailand has received two batches of F-16A/Bs, the first arriving in 1988 and the second in 1995. The latter batch, of which an example is illustrated, serves with 403 Squadron, the others with 103 Sqn.
Nicknamed the 'Viper', the F-16 cuts a unique silhoutte, with its shock-inlet air intake located under the forward fuselage below its pilot. The Falcon's unusual shape features wing/body blending and large leading-edge root extensions to enhance lift at high angles of attack. While its high Alpha cabability is limited by comparison with that of the F/A-18 and the latest Russian 'super-fighters' its very high trust to weight ratio, fast roll rate and high wing lift make it a very agile fighter. Among its once novel characteristics, the F-16 is statically unstable, relying on a central computer and electronic 'Fly By Wire' controls to remain controllable.
The F-16A pilot sits on a zero-zero ACES II canted to recline 30°. This improves average g tolerance and necessitates provision of a limited movement pressure-sensing sidestick controller in place of a conventional joystick. The cockpit has HUD and multifunction displays, and a one-piece canopy of blown polycarbonate with no windscreen and thus no framing forward of the pilot's shoulderline. This gives an incomparable all-round view, the F-16's most radically new feature and a great boon for dogfighting. The two-seat F-16B has full combat capability, but with reduced fuel capacity.

Among the satisfied customers for the F-16A is Indonesia. In the late 1990s surplus USAF aircraft will become available for sale to many countries, including those of Eastern Europe.
The F-16A/B is armed with a General Electric M61A1 Vulcan, 20-mm cannon with 511 rounds, located on the port side at the blend between wing and fuselage. On a typical mission, an F-16A/B can carry as much as 16,700 lb (7575 kg) of ordnance, including Mk 20 Rockeye and CBU-87 cluster bombs, Mk 83 and Mk 84 500-lb (227-kg) and 1,000 lb (454 kg) bombs, AGM-65 Maverick missiles, and GBU-10 and GBU-15 guided weapons. Except for ADF variants, all F-16A/Bs now have air-to-ground work as their primary duty, with air combat important but secondary. Still, pilots praise the manoeuvrability, high g tolerance, heat-seeking missiles and gun, all which enable them to 'yank and bank' with an enemy fighter. Pilots are not pleased about what one fliers calls "the conscious decision not to give it a radar missile" to fight beyond visual range, claiming that "we don't have a long enough spear to do battle with 'Floggers' and 'Fulcrums'."
NATO's search for an F-104 replacement led in June 1975 to the 'sale of the century' in which Belgium, Denmark, the Netherlands and Norway selected the F-16A/B. SABCA in Belgium was responsible for the manufacture of 221 aircraft mainly for Belgium and the Denmark, whilst Fokker in Holland built 300 aircraft primarily for the Royal Netherlands Air Force and Norway. Some Dutch aircraft are equipped with a centerline tactical reconnaissance pod, and are designated F-16A(R). Subsequent OCUs have brought improvements to F-16A/Bs on both continents, while additional countries have taken the A model 'Viper' into their inventories. Many of these nations were initially offered the significantly inferior J79-powered F-16/79, but were able to buy the full-standard F100-engine F-16 when President Reagan relaxed some of the arms sales controls imposed by his predecessor.

Belgium is planning to put 48 of its F-16As through the MLU programme, with 24 further options depending on future defence. The MLU adds a wide-angle HUD among other improvements.
SERVICE ENTRY
Delivery of operational USAF F-16A/Bs began in January 1979 to the 338th Tactical Fighter Wing at Hill AFB, UT. Despite teething troubles with engine malfunctions and structural cracks, the F-16 developed into a superb fighter-bomber. The F100-PW-100 engine encountered problems, including ground-start difficulties, compressor stalls, fuelpump breakdowns and afterburner malfunctions, most of which were corrected early in the aircraft's career. The F-15, which shared a common powerplant, suffered simular problems, an ironic development when this commonality was a powerful factor in the selection of the F-16 over the rival Northtrop YF-17.
Pakistan's F-16 force is largely optimised for air defence. They have scored several kills in battles along the Afghan border.
Versions of the F-16A were tested with APG-65 radar and J79 and YJ101 engines. In December 1975, the first YF-16 was rebuilt with twin canards added, to become the USAF Flight Dynamics Laboratory's CCV (Control-Configured Vehicle). General Dynamics converted the fifth FSD F-16A into the AFTI (Advanced Fighter Technology Integration) aircraft, or AFTI/F-16A. The AFTI/F-16A has a triplex digital flight-control system, larger vertical canard surfaces at the air intake, and a thick dorsal spine; this aircraft was used in recent close air support studies before being laid up by funding constraints. The SCAMP (Supersonic Cruise and Manoeuvring Prototype), or F-16XL, was yet another special version with a 'cranked delta' wing. Two F-16XLs, a single- and a two-seater, have gone on to participate in various research efforts.
The F-16A/B was built in distinct production blocks numbered 1, 5, 10, and 15. Forty-three F-16A/B Block 1s (21 F-16As and 22 F-16Bs) can be distinguished from later Fighting Falcons by their black radomes. F-16A/B Block 5s numbered 126 (99 F-16As and 27 F-16Bs). F-16A/B Block 10 consists of 170 aeroplanes including 145 F-16As and 25 F-16Bs, in addition to all surviving earlier machines which have been upgraded.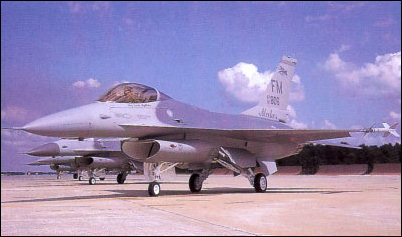 The last unmodified F-16As in USAF service flew with the Air Force Reserve, like these 93rd FS examples.
F-16A/B Block 15 introduced the first important changes to the F-16. Noteworthy in Block 15 is the extended horizontal stabilator, or 'big tail', now standard on these and all subsequent Fighting Falcons. Pilots prefer the small tail for dogfighting but the big tail gives greater rudder authority when carrying a heavy ordnance load. Because of the wing cracks and afterburner problems, the USAF is expected to retire all of its pre-Block 15 'small tail' ships by the mid-1990s, making Block 15s the oldest F-16s in service. Block 15 compromises 457 American aircraft(410 F-16As, 47 F-16Bs), 270 of which were chosen for conversion to F-16A/B ADF with interceptor duties.
EUROPEAN UPGRADES
The OCU (Operational Capabilities Upgrade) program, adopted by Belgium, Denmark, the Netherlands and Norway, improves the avionics and fire control systems, adds ring-laser INS and provides for the upgrading of the F100-PW-200 engine to F100-PW-220E. From 1988 exports were to Block 15 OCU standard, while surviving F-16A/Bs of the AFRES and ANG were upgraded with F100-PW-220Es. Further improvements planned for the F-16A/B include the MLU (Mid-life update) which brings the cockpit to Block 50 standard with wide-angle HUD and NVG compability. New avionics include a modular mission computer, APG-66(V2A) radar and Navstar GPS. Options include wiring for intake-mounted FLIR and helmet-mounted sight. The four European nations are customers for MLU aircraft, and the aircraft offered to Taiwan are also to this standard. USAF aircraft will adopt some of the MLU features.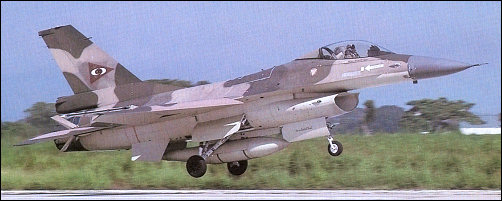 Like several overseas customers, Venezuela was offered the F-16/79, but eventually received F100-powered F-16A/B Block 15s.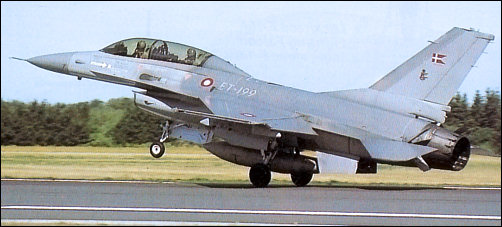 The F-16B has similar dimensions to the single-seater, and gives away no combat capability other than reduced range. This Danish example carries the badge of Esk 726.
The first F-16A/B aircraft to be taken directly from USAS inventory for an overseas customer were ex-'Thunderbirds' aircraft transferred to Singapore in 1993 but retained at Luke AFB, AZ, for training of Singaporean pilots.
In December 1992 Lockheed purchased General Dynamics Tactical Military Aircraft Division, which was renamed Lockheed Fort Worth Company on 1 March 1993.
WEAPON OPTIONS
Standard armament includes internal 20-mm M61A1 Vulcan cannon with 511 rounds, and wingtip launch rails for AIM-9L/M/P Sidewinder missiles. Alternatives to Sidewinder are MATRA Magic 2 or Rafael Python 3. Centreline pylon stressed for 2,200 lb (1000 kg) at 5,5g load or 1,200 lb (544 kg) at 9g, inboard wing pylons stressed to 4,500 lb (2040 kg) / 2,500 lb (1134 kg), centre wing pylons stressed to 3,500 lb (1587 kg) / 2,000 lb (907 kg) and outboard wing pylons (usually used for additional AIM-9 carriage) stressed to 700 lb (318 kg) / 450 lb (204 kg).
Most unguided weaponry is authorised for carriage, including Mk-82 bombs and cluster munitions on triple-ejector racks, or Mk-84 bombs carried singly on wing pylons. Guided weaponry includes AGM-65 Maverick anti-armour missile and Penguin anti-ship missile (Norway). Pakistani aircraft equipped with ATLIS laser-designator and Paveway LGBs.
External fuel usually carried in 370-US gal (1400-litre) tanks on inboard pylons. ECM pods usually carried on centreline. KLu F-16A(R) carries Orpheus reconnaissance pod on centreline. GPU-5 Pave Claw cannon pod previously carried by NY ANG F-16As.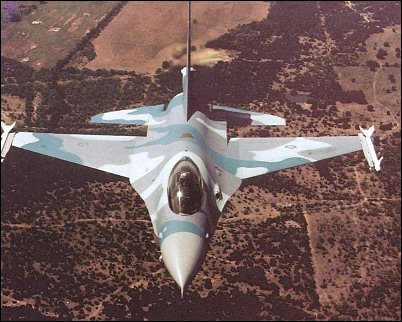 Indonesia operates some of the most colourful F-16s. The aircraft were delivered to Block 15 OCU standard.
OPERATORS
Deliveries of F-16A/Bs are as follows:
USAF: F-16A (664), F-16B (121)
Belgium: F-16A (136), F-16B (24)
Denmark: F-16A (54), F-16B (16)
Egypt: F-16A (34), F-16B (7)
Indonesia: F-16A (8), F-16B (4)
Israel: F-16A (67), F-16B (8)
Netherlands: F-16A (177), F-16B (36)
Norway: F-16A (96), F-16B (14)
Pakistan: F-16A (28), F-16B (12)
Singapore: F-16A (6), F-16B (4)
Taiwan: 150 F-16A/B Block 20s on order
Thailand: F-16A (12), F-16B (6)
Venezuela: F-16A (18), F-16B (6)
SPECIFICATION
Lockheed (General Dynamics) F-16A Fighting Falcon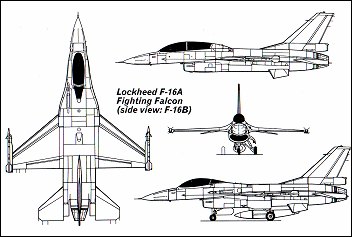 generally similar to the F-16C Fighting Falcon except in the following particulars
Fuselage and tail: height 16 ft 5.2 in (5.01 m); tailplane span 18 ft 0.43 in (5.495 m)
Powerplant: one Pratt & Whitney F100-P-100 rated at 14,670 lb st (65.26 kN) dry and 23,830 lb st (106.0 kN) with afterburning
Weights: operational empty 14,567 lb (6607 kg); typical combat take-off 22,785 lb (10335 kg); maximum take-off 33,000 lb (14968 kg)
Fuel and load: internal fuel 6,972 lb (3162 kg); external fuel up to 6,760 lb (3066 kg) in three 300-, 370-, 450- and 600-US gal (1136-, 1400-, 1703- and 2271-litre) drop tanks; maximum ordnance 15,200 lb (6894 kg)
Source: Encyclopedia of World Military Aircraft 1994 © Aerospace