Military aviation news - October 2006
Harrier GR9 Delivered On Time and On Budget
The upgraded Harrier GR9 has entered service with the Royal Air Force and Royal Navy after a half a billion pound improvement package.
All 69 of the RAF's existing GR7 aircraft are being converted at RAF Cottesmore to high tech Joint Force GR9s by BAe Systems, which has converted the first batch on time and on budget. 24 of the 69 are now in service with 20 (Reserve) Sqn, which is the Operational Evaluation Unit, and 1 (Fighter) Sqn.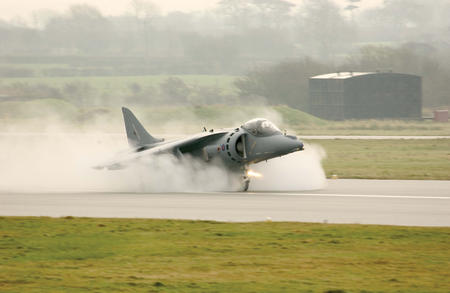 The Harrier GR9 © BAE Systems
The upgrades will allow the aircraft to use advanced new and higher numbers of precision weaponry such as Paveway IV 500lb smart bombs and Brimstone anti-armour missiles. Brimstone is a true fire-and-forget all-weather weapon which means the GR9 could attack up to 12 ground targets simultaneously compared with one or two with GR7.
More details at defencetalk.com
Posted: Sat, Oct 14, 2006 13:20 (CET)
Pakistan sign deal on sale of new F-16's
The Pakistani Air Force announced today the signing of an agreement between the Pakistani and U.S. governments for the US to provide 18 new F-16 fighter jets to the country.
The deal also includes the upgraded of the current 32 F-16s in the fleet and air-to-air and air-to-ground weaponry, the air force said in a statement.

In July, the US Defence Security Cooperation Agency notified Congress that the F-16s would come with 200 Sidewinder and 500 AIM-120C5 air-to-air missiles plus 800 general purpose 2,000 and 500-pound bombs.
More details at f-16.net
Posted: Mon, Oct 2, 2006 13:31 (CET)
Chile requests support for F-16 MLUs and sale of LAU-129/A
The Government of Chile has requested program support for their F-16 Mid-Life Update aircraft (MLU) they acquired from the Netherlands and the sale of 28 LAU-129/A launchers.
The program support for the F-16s consists of support equipment, spare and repair parts, program support, publications, documentation, personnel training, training equipment and contractor technical and logistics personnel services. The LAU-129/A they also requested is a Common Rail Launcher (CRL) for the AIM-9 and AIM-120 air-to-air missiles.
The total value, if all options are exercised, could be as high as $ 123 million.
More details at f-16.net
Posted: Mon, Oct 2, 2006 13:28 (CET)