T-1A Jayhawk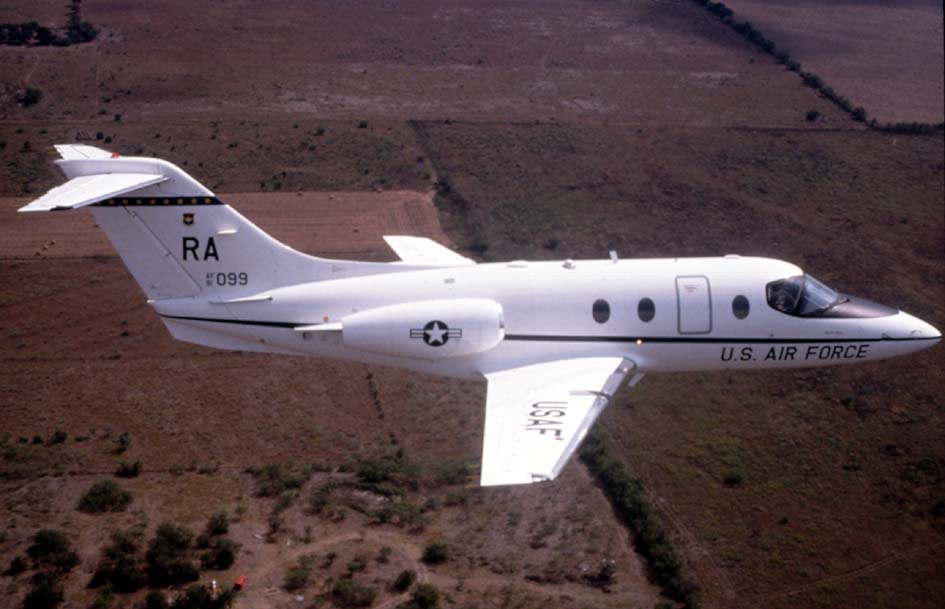 Mission
The T-1A Jayhawk is a medium-range, twin-engine jet trainer. It is used by the U. S. Air Force's Air Education and Training Command to train student pilots to fly airlift or tanker aircraft.
Features
The swept wing T-1A is a version of the Beech 400A. It has cockpit seating for an instructor and two students and is powered by twin turbofan engines capable of an operating speed of Mach .73. The T-1A differs from its commercial counterpart with a single-point refueling system with greater capacity and increased bird strike protection in the windshield and leading edges for sustained low-level operation.
Background
The Jayhawk represents the first new training aircraft procured by the Air Force in 30 years and marks the beginning of a new era in undergraduate pilot training. The first aircraft was delivered to Reese Air Force Base, Texas in January 1992. Student training in the T-1A began at Reese in 1993.
Since the late 1950s, Air Force undergraduate pilot training students have trained in two aircraft: the T-37 Tweet, the primary trainer and the T-38 Talon, the advanced trainer. With the introduction of specialized undergraduate pilot training in 1993, students continue to receive their primary flying training in the T-37. Advanced training for students identified to go into bombers and fighters will be in the T-38. Those selected for airlift or tanker aircraft will receive their advanced training in the T-1A.
The T-1A is used at all undergraduate pilot training bases: Columbus AFB, Miss.; Laughlin AFB, Texas; and Vance AFB, Okla. It is also used at Randolph AFB, Texas, to train instructor pilots.
General Characteristics
Primary Function: Advanced trainer for airlift and tanker pilots
Builder: Raytheon Corp.
Power Plant: Two Pratt and Whitney JT15D-5 turbofan engines
Thrust: 2,900 pounds each engine
Length: 48 feet, 5 inches (14.75 meters)
Height: 13 feet, 11 inches (4.24 meters)
Wingspan: 43 feet, 6 inches (13.25 meters)
Speed: 538 miles per hour (Mach .73)
Ceiling: 41,000 feet (12,500 meters)
Maximum Takeoff Weight: 16,100 pounds (7,303 kilograms)
Range: More than 2,100 nautical miles
Armament: None
Crew: Three (pilot, co-pilot, instructor pilot) and observer
Date Deployed: February 1992
Unit Cost: $4.1 million
Inventory: Active force, 154, (180 anticipated by end of 1997); ANG, 0; Reserve, 0